All Recipes
Low-Carb Broccoli, Ham, and Mozzarella Baked with Eggs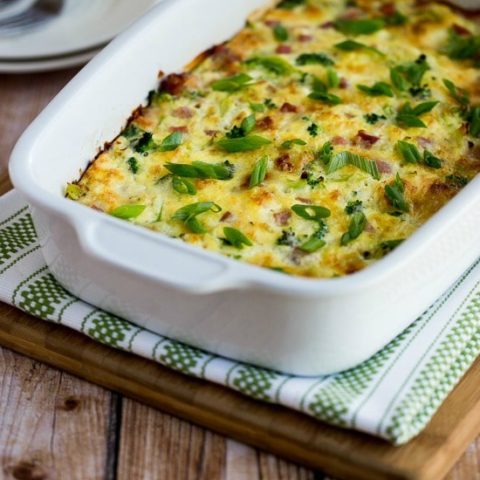 Meal

Breakfast

Cusine

Low-Carb
What do you need?
How to make?
Ingredients
6 cups chopped broccoli pieces, blanched about 2 minutes, then drained well.
2 cups diced ham
1 cup grated Mozzarella
1/3 cup thinly sliced green onion
10 eggs, beaten well
1 tsp. Spike Seasoning
fresh-ground black pepper, to taste
Directions
Heat oven to 375F/190C. Spray a 9"x12" casserole dish with non-stick spray. Bring a medium-sized pot of water to a boil. Dice ham, slice green onions, and measure the Mozzarella cheese. When water boils, cook the broccoli just 2 minutes; then pour into a colander placed in the sink and let it drain well. Layer broccoli, ham, Mozzarella, and green onions (if using) in casserole dish. Season with Spike Seasoning and fresh-ground black pepper and pour beaten egg over. Use a fork to "stir" the mixture just until all the ingredients are coated with egg.  (It might look like there is not enough egg, but carry on!) Bake 35-45 minutes, or until all the mixture is set and the top is starting to lightly brown. Serve hot, with sour cream if desired. This can be kept in the fridge for at least a week and reheated in the microwave.