All Recipes
Rice Cooker Chili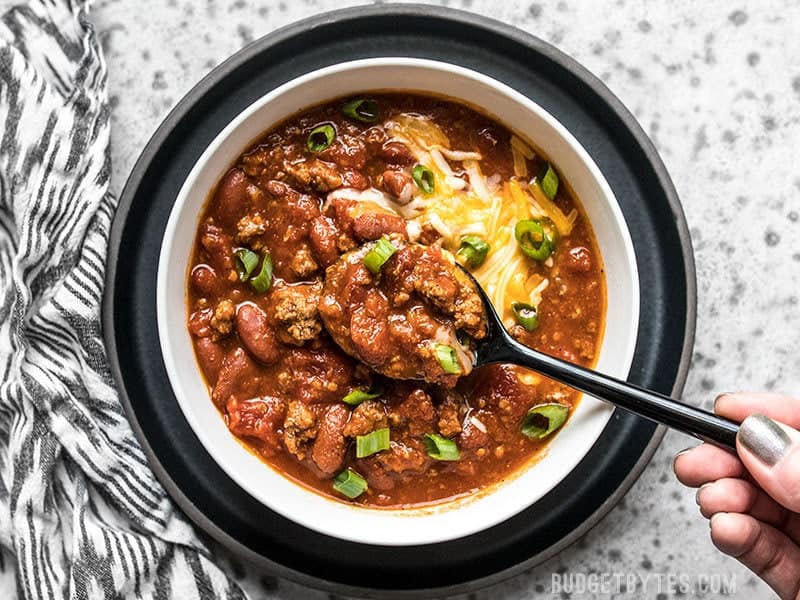 What do you need?
How to make?
Ingredients
1 Tbsp olive oil
1/2 lb. ground beef
1/2 Tbsp chili powder*
1/2 tsp cumin*
1/8 tsp cayenne pepper*
1/4 tsp garlic powder*
1/2 tsp onion powder*
1 tsp brown sugar*
1/2 tsp salt*
freshly cracked pepper*
1 15oz. can diced tomatoes
1/2 6oz. can tomato paste
1 15oz. can kidney beans
3/4 cup water
Directions
Add the olive oil and ground beef to the rice cooker. Close the lid and select the "white rice" or "cook" function, depending on the functions available on your cooker. Allow the beef to cook with the lid closed, opening it briefly to stir and break up the meat every couple of minutes, until the beef is fully browned (about 5 minutes total). Many rice cookers, including the model I used, do not heat unless the lid is closed, so remember to close it after each stir. If you are using a higher fat content beef, drain the excess fat once it has fully browned. Add the chili powder, cumin, cayenne, garlic powder, onion powder, brown sugar, salt, and pepper to the ground beef in the rice cooker, stir to combine, then close the lid and cook for one minute more. Drain the can of kidney beans and add them to the rice cooker along with the diced tomatoes (and their juices), tomato paste, and water. Stir until everything is evenly combined. Close the lid once more, make sure "white rice" or "cook" is selected, then let the chili simmer for 30 minutes. Stir the chili occasionally to make sure it is not sticking on the bottom. If your cooker finishes the cook cycle before 30 minutes is up, simply begin it again. After simmering for 30 minutes, taste the chili, adjust the seasoning if desired, then serve with your favorite chili toppings.