All Recipes
thai turkey meatloaf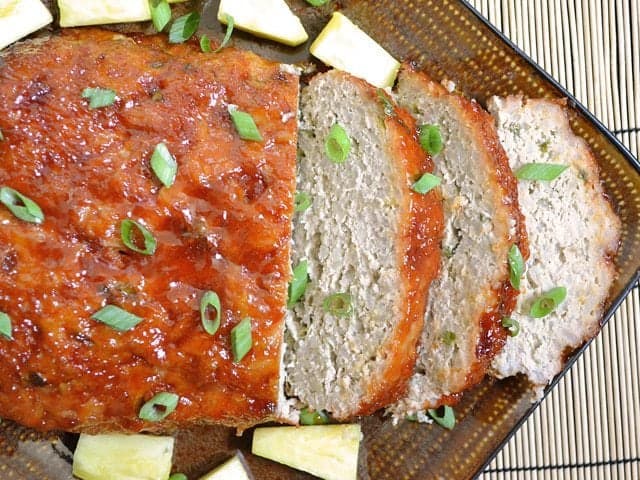 Meal

Main Dish

Cusine

Asian
What do you need?
How to make?
Ingredients
2 lbs ground turkey
4 cloves garlic
3-4 whole green onions
2 inches fresh ginger
3 Tbsp soy sauce
1 tsp toasted sesame oil
2 large eggs
1.5 cups cooked jasmine rice
1/2 cup brown sugar
2 Tbsp ketchup
2 Tbsp sriracha sauce
1 Tbsp rice vinegar
Directions
Place the ground turkey in a large bowl. Slice the green onions and mince the garlic. Add the onion and garlic to the bowl along with the soy sauce and sesame oil. Peel the ginger and grate it directly into the bowl using a fine cheese grater. Mix everything together well. Add the eggs and cooked jasmine rice (white rice will work in a pinch). Mix everything together thoroughly. Line a baking sheet with foil and spray with non-stick spray. Place the meat mixture onto the baking sheet and shape it into a loaf. Preheat the oven to 375 degrees. Once preheated, place the loaf inside and bake for 30 minutes. While the loaf is baking, mix together the sriracha glaze. In a small bowl stir together the brown sugar, ketchup, sriracha, and rice vinegar. After it has baked 30 minutes, remove the loaf from the oven and spoon half of the sriracha glaze over top. Bake for an additional 30 minutes. Spoon the remaining glaze over top and bake for a final 15 minutes. A meat thermometer placed in the center of the loaf should read 160 degrees Fahrenheit. Allow the loaf to rest for ten minutes before slicing.