All Recipes
Southwest Steak Bowls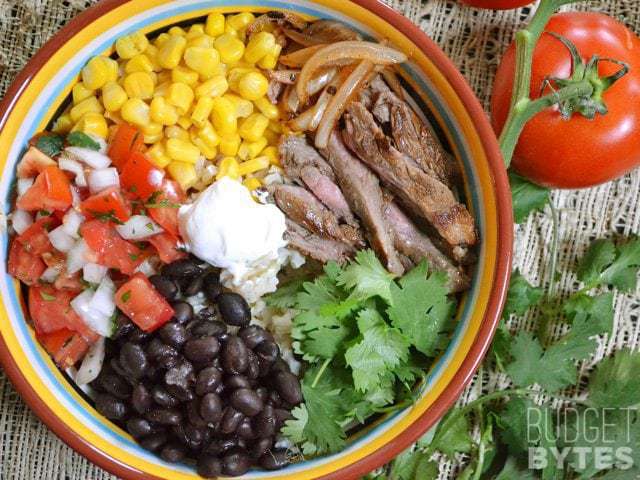 What do you need?
How to make?
Ingredients
3/4 - 1 lb flank or skirt steak
1 1/2 Tbsp olive oil
1 clove garlic
1/2 tsp ground cumin
1/4 tsp salt
1 medium lime
1 1/2 cups uncooked brown rice
3 cups chicken broth*
1 small onion
1 large tomato
1/2 bunch cilantro
15 oz can black beans*
1 cup frozen corn kernels
8 oz container sour cream
Directions
To make the steak marinade, mince the garlic and combine it in a bowl with the olive oil, cumin, salt, and the juice from half of the lime (1-2 Tbsp juice). Save the other half of the lime to use in the pico de gallo. Add the marinade and steak to a zip top bag or shallow dish, make sure the steak is well coated in the marinade, and refrigerate it for about 30 minutes while the rice cooks. Cook the rice according to the package instructions, but substitute chicken broth for the water. While the rice is cooking and steak is marinating, prepare the pico de gallo. Dice the tomato and half of the onion. Combine the diced tomato, onion, juice from the second half of the lime, 1/4 tsp of salt, and a handful of roughly chopped cilantro in a bowl. Stir until combined, taste, and adjust the salt if needed. Rinse the black beans in a colander and allow the corn kernels to thaw. To cook the steak, heat a large skillet over medium-high until very hot. Add the steak and cook for 3-5 minutes on one side, or until deeply golden brown. Flip and cook in the same manner on the second side. Transfer the steak to a cutting board and allow it to rest for five minutes. If desired, thinly slice the second half of your onion and cook it in the skillet for a few minutes, or until they are caramelized. Once the steak has rested for a few minutes, slice it thinly against the grain (look for the lines in the meat and cut across them). To build the bowls, lay down one cup of rice, 1/4 cup each of beans, corn, and pico de gallo, a few slices of steak, a few sprigs of cilantro, and a dollop of sour cream. Serve hot.