All Recipes
Raisin Spice Bread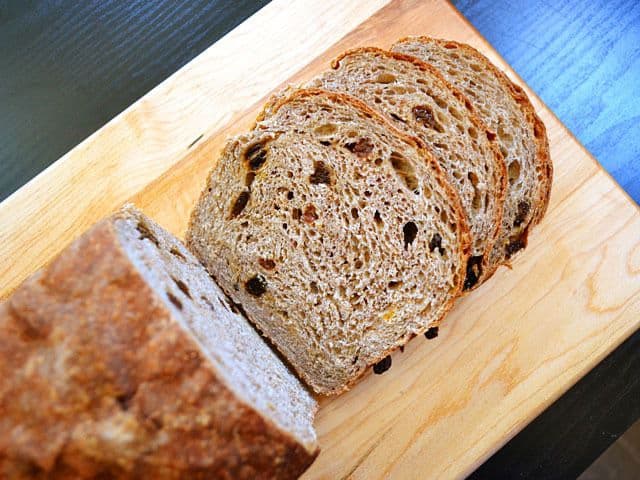 What do you need?
How to make?
Ingredients
1 cup whole wheat flour
2 1/4 cups all-purpose flour
2 Tbsp brown sugar
1 1/4 tsp salt
3/4 Tbsp instant or bread machine yeast
1 Tbsp cinnamon
1 tsp ground ginger, dry
1/2 tsp ground cloves
1/2 cup raisins
approx 1 1/2 cups warm water
Directions
In a large bowl combine the dry ingredients: flour, brown sugar, salt, yeast, cinnamon, ginger, cloves, and raisins. Stir until evenly combined. Starting with one cup, add warm water until the dough forms one cohesive ball and no dry flour is left on the bottom of the bowl (see photos below). This will be anywhere between 1.25 to 1.75 cups of water, depending on the moisture level of your flour. Having the dough be a little too wet is better than it being a little too dry. Loosely cover the bowl and let stand at room temperature for two hours. After two hours the dough should be light and fluffy (see photos below). Sprinkle lightly with flour and remove the dough from the bowl. Place the dough on a lightly floured surface and gently knead a few times to make the texture of the dough even. Shape the dough into a log the same length as your bread pan. Place the loaf in a bread pan coated with non-stick spray. Loosely cover with a moist towel and let rise until double (about 1-1.5 hours depending on the temperature in your kitchen). Preheat your oven to 425 degrees. Lightly brush the top of the bread with water. Cook the loaf in the preheated oven for about 30 minutes or until it is a deep golden brown on top. After baking, remove it from the bread pan and allow it to completely cool on a wire rack before slicing. Enjoy!