All Recipes
Vegetable Alfredo Pasta Bake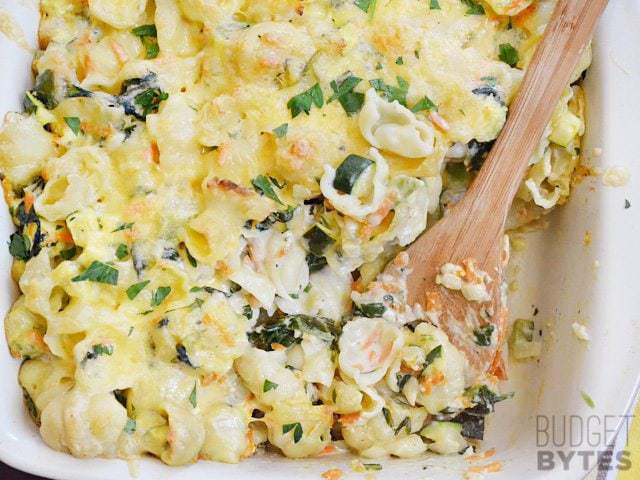 What do you need?
How to make?
Ingredients
1 Tbsp olive oil
1 small onion
4 cloves garlic
3 medium carrots
1 medium zucchini
1/2 lb. frozen broccoli & cauliflower pieces
1/4 lb. frozen chopped spinach
Salt and pepper to taste
4 Tbsp butter
1/4 cup all-purpose flour
4 cups 2% or whole milk
1/4 tsp ground nutmeg
1/4 tsp garlic powder
1/2 tsp salt
Freshly cracked pepper
2/3 cup grated parmesan
1 lb. pasta
1 cup shredded gouda or smoked mozzarella
Directions
Begin by making the vegetable mix. Dice the onion and mince the garlic. Sauté both in a large skillet with the olive oil over medium heat until soft. Add the frozen broccoli and cauliflower pieces and and the frozen spinach to the skillet. Continue to sauté until the frozen vegetables are warmed through. While the onions, garlic, frozen broccoli, and frozen spinach are cooking, peel and shred the carrots using a large hole cheese grater or box grater. Dice the zucchini into small pieces. Add the carrots and zucchini to the skillet and sauté for one to two minutes more. Season the skillet lightly with salt and pepper. Set the sautéed vegetables aside. Bring a large pot of water to a boil for the pasta. Cook the pasta according to the package directions (boil for 7-10 minutes, or until al dente). Drain the pasta in a colander. While the pasta is cooking, prepare the sauce. Add the butter and flour to a medium sauce pot. Melt the butter over medium heat and use a whisk to incorporate the flour as the butter melts. Allow the flour and butter mixture to begin to bubble. Continue to whisk and cook the mixture for two minutes. If it begins to brown, move on to the next step immediately. Whisk the milk into the butter and flour mixture. Also stir in the nutmeg, garlic powder, salt, and some freshly cracked pepper. Allow the milk to come up to a simmer over medium heat, making sure to whisk frequently to prevent scorching on the bottom. When the milk comes up to a simmer it will begin to thicken. When the sauce is thick enough to coat a spoon, turn the heat down to low and whisk in the parmesan until it is melted and the sauce is thick. Turn the heat off. Preheat the oven to 375 degrees. Return the well drained pasta to the large pot with the heat turned off. Add the sautéed vegetables and the white sauce. Stir until everything is well combined and coated in the sauce. Pour the mixture into a casserole dish that has been coated with non-stick spray. Sprinkle the shredded gouda on top and bake in a preheated 375 degree oven for 30 minutes. Serve hot.