All Recipes
How to Make Slow Roasted Tomatoes (and Recipes Using Slow Roasted Tomatoes)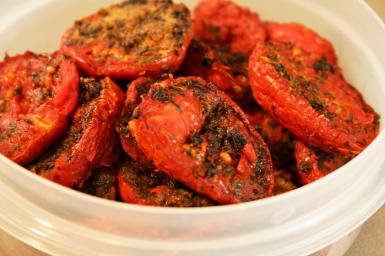 Meal

Breakfast

Cusine

American
What do you need?
How to make?
Ingredients
20 Roma type tomatoes
2 T olive oil, plus a little to oil the pan if you don't have a mister
1 T ground fennel
2 T dried basil
1 T dried oregano
1 T dried majoram
Any combination of herbs that appeals to you can be used.
Directions
Preheat oven to 250F (about 9 hours roasting time) or 200F (10-11 hours roasting time.)I used the shorter time, but mainly because my antique oven will not stay at 200F.Wash tomatoes, dry, and cut each tomato in half lengthwise, keeping the stem spot in one piece (to grab when peeling the tomatoes later.)Put tomatoes in a bowl and toss with olive oil and herbs.Spray cookie sheet with olive oil mister (or brush very lightly with oil).Arrange tomatoes cut-side down on cookie sheet.After about 8 hours, start checking tomatoes.They're done when skins puff up and tomatoes are reduced in size by at least half.It's a personal preference as to how dried you like them, and I prefer to cook mine until they look fairly dense, but still a tiny bit juicy.As tomatoes seem done, remove them from the pan. (Some will take longer than others.)Let them cool for a few minutes, then remove the skin by grabbing at the stem end and pulling off.Most of the skins come off easily. (Removing the skin is optional, but I always remove it.)These tomatoes have an intense tomato flavor that you probably can't get any other way.They can be eaten hot or cold.They freeze wonderfully to use all winter in soups, stews, and pasta sauces.