All Recipes
Bacon Cheeseburger Keto Breakfast Quiche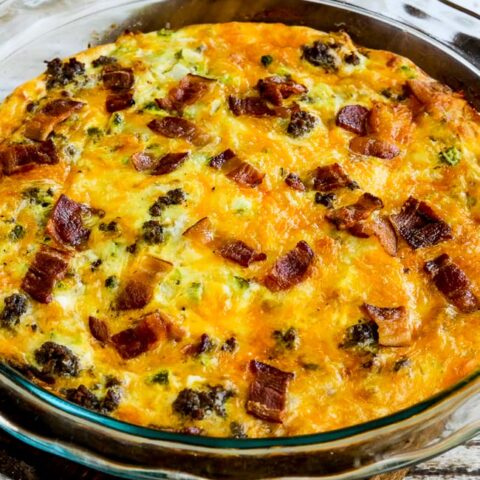 What do you need?
How to make?
Ingredients
8 slices thick bacon
1 lb. ground beef
1/2 onion, finely chopped
1/4 cup dill pickles, finely chopped
1 1/4 cup grated cheese
8 eggs, well beaten
1/2 cup heavy cream
Directions
Preheat oven to 350F/175C. Spray a  9 inch or 9.5 inch glass or crockery pie pan with non-stick spray. (Probably optional, but it makes the dish easier to clean.) Heat a large frying pan over medium-high heat and cook the bacon until it's nicely crisp. Remove bacon to a cutting board or plate to cool, then crumble the bacon. Reserve a little bacon to sprinkle over the top and put the rest of the crumbled bacon into the pie pan. Remove some of the bacon fat from the pan if needed, then heat the bacon fat left in the frying pan over medium-high heat. Add the ground beef to the pan, breaking it apart with your fingers. Cook until the beef is completely cooked and starting to brown, breaking it apart with the turner as it cooks. Add cooked ground beef to the pie pan. While beef cooks, finely chop 1/2 an onion and 1/4 cup dill pickles. Sprinkle chopped onion and pickles over the ground beef. Sprinkle the one cup grated cheese (or more) over the ingredients in the pie pan. Beat the eggs until they're well-combined, then beat in the cream. Pour the egg mixture over the other ingredients and gently "stir" with a fork, so ingredients are well-combined. Sprinkle the rest of the grated cheese and the reserved bacon over the top. Bake 35-45 minutes, or until the quiche is completely set, the cheese is all melted, and the top of the quiche is nicely browned. Serve hot.