All Recipes
Greek Salad with Marinated Onions and Oregano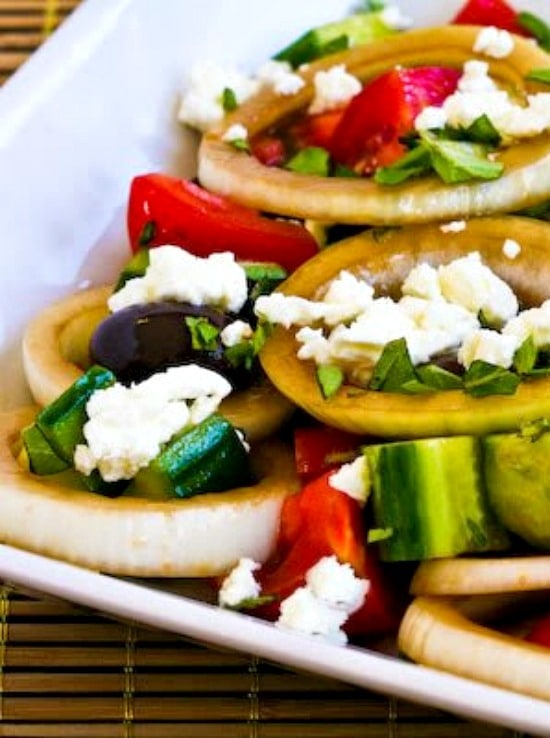 Meal

Breakfast

Cusine

Mediterranean
What do you need?
How to make?
Ingredients
1 medium Vidalia onion
2 T extra virgin olive oil, plus more for serving if needed
1 T balsamic vinegar, plus more for serving if needed
2-3 small cucumbers
3-4 small tomatoes
8-10 pitted Kalamata Olives
1 T chopped fresh oregano
1/4 cup crumbled Feta cheese
fresh ground black pepper to taste
Directions
About 4-8 hours before serving the salad, peel onion and slice thinly.Separate onion into rings and put in small ziploc bag.Whisk together olive oil and balsamic vinegar and pour into bag.Let onions marinate in refrigerator until ready to assemble the salad.After onions have marinated for desired time, remove from refrigerator and drain the dressing into a small bowl. (I do this by opening one end of the ziploc bag and holding it over the bowl while tipping the bag.)Taste dressing and add more olive oil and balsamic vinegar if needed, whisking into dressing.Wash cucumbers and cut into slices about 1/2 inch thick. (Larger cucumbers will need to be cut in half and if you don't have small cucumbers you may also need to peel them.)Cut tomatoes into halves, then cut each half into fourths to make eight pieces.Wash oregano and chop with chef's knife.In large mixing bowl, toss together marinated onions, cucumbers, tomatoes, and Kalamata Olives.Toss with desired amount of dressing.Sprinkle with oregano and crumble Feta cheese over salad.Arrange on two plates, season with fresh-ground black pepper, and serve immediately.