All Recipes
No-Pasta Low-Carb Salad with Zucchini, Italian Sausage, Red Pepper, and Olives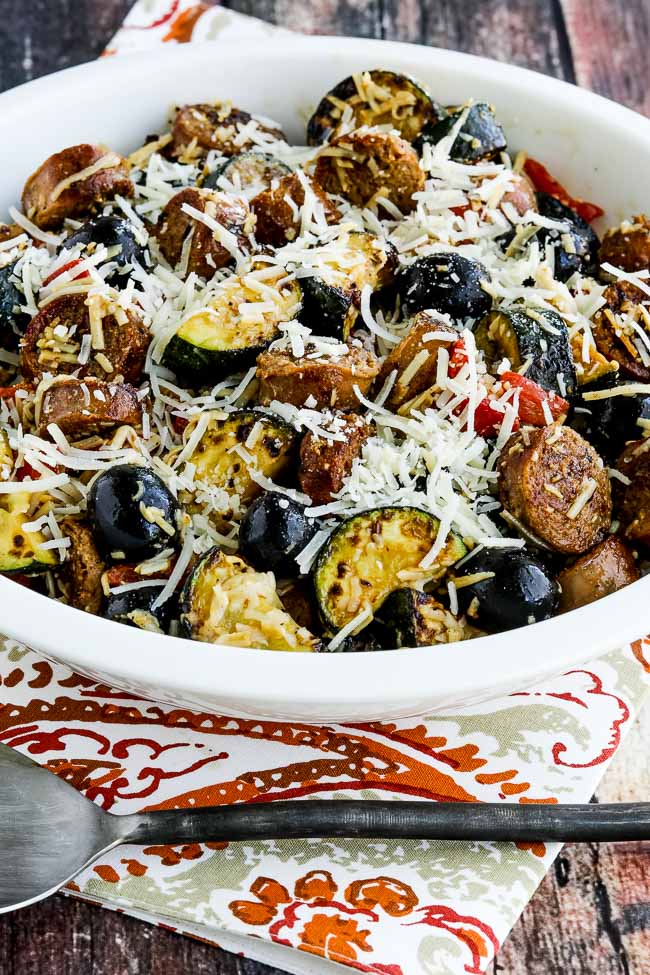 Meal

Pasta

Cusine

Low-Carb
What do you need?
How to make?
Ingredients
2 T olive oil, divided
1 pkg.
1 can black olives, drained
1 jar roasted red peppers, drained and cut into short strips
3 small zucchini
1/2 cup low-sugar or sugar-free vinaigrette or Italian dressing
salt and fresh-ground black pepper to taste
1 cup coarsely-grated or freshly-grated Parmesan cheese
Directions
Heat 2 tsp. olive oil in a large non-stick frying pan. Add sausage links and cook over medium-high heat until sausage is firm and well-browned on all sides.While sausage browns, drain olives well and set aside. Drain red bell peppers well, then cut peppers into short strips.When sausage is browned remove to a cutting board and let it cool enough to handle. Then cut into slices about 3/4 inch thick.Add another teaspoon or so of olive oil to the pan if needed and heat the oil over medium-high heat; then add the sausage slices and brown well on both sides. (Don't rush this step; browning the sausage adds flavor.While sausage browns, wash the zucchini if needed and dry with paper towel. Cut zucchini in half lengthwise and then slice into slices the same thickness as the sausage pieces.When sausage is browned, remove it to a cutting board. Wipe out the pan if there is a lot of browned residue in the bottom. (This will depend on the sausage you used. Some brown bits in the pan don't matter and they'll add flavor to the zucchini.)Add the other tablespoon of olive oil to the pan, heat oil over medium-high heat, then add the zucchini slices and cook just until the zucchini is barely starting to soften, about 4-5 minutes,Turn off heat and let zucchini cool in the pan for 2-3 minutes. Then add the salad dressing and stir to coat all the zucchini. Let zucchini marinate in the dressing for about 5 minutes.Combine cooked sausage pieces, olives, and red pepper strips in a salad bowl.Then add the slightly-marinated zucchini and any dressing left in the pan. Season the salad with a little salt and fresh-ground black pepper to taste.Add grated Parmesan and gently combine. This is best served right away but it can be refrigerated for a short time if needed.Leftovers will keep overnight in the fridge but the salad is far better when it's freshly made.