All Recipes
Low-Carb Egg Burritos for a Crowd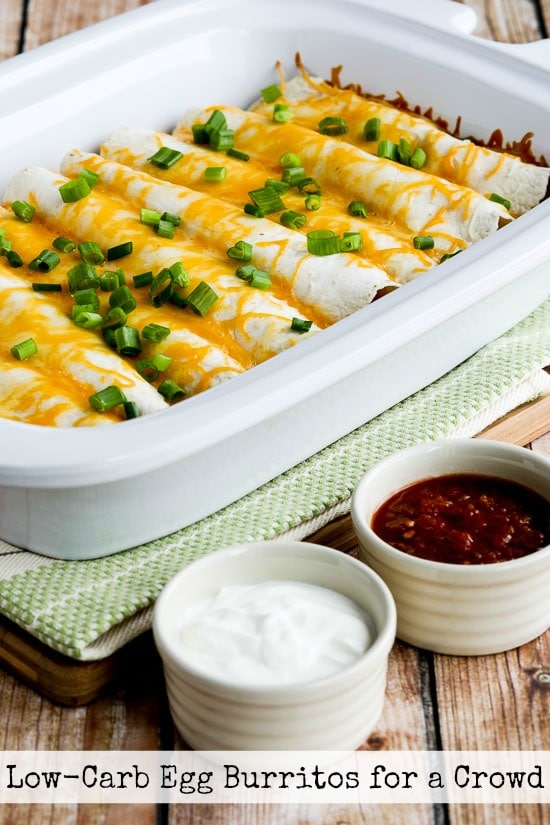 Meal

Breakfast

Cusine

Low-Carb
What do you need?
How to make?
Ingredients
1 dozen eggs
1 or 2 red bell peppers, chopped in 1/2 inch pieces
1 green bell pepper, chopped in 1/2 inch pieces
1 or 2 cans
1-2 T olive oil
2 tsp. Spike seasoning
8-10 low-carb tortillas
about 2 cups grated cheese
sour cream, for serving
Salsa, for serving
hot sauce such as Green Tabasco Sauce for serving if desired
Directions
Use a good nonstick frying pan for this recipe; I used my favorite Green Pan. Heat some of the olive oil in pan over medium heat, then add diced peppers and cook until slightly soft, about 3-4 minutes.Add green chiles and Spike seasoning and cook about 2 minutes more.While peppers are cooking, break eggs into mixing bowl and whisk until whites and yolks are completely combined.Add a little more olive oil to frying pan, add beaten eggs, and immediately turn heat to low and cook until eggs are barely set, gently stirring and scraping side of pan with rubber scraper or turner the entire time, about 8 minutes.They should still be slightly wet-looking and not completely cooked when you turn off heat, especially if you're going to warm them and melt cheese in the slow cooker.To Make Low Carb Egg Burritos for a Crowd as shown:Spray the crockery part of the Crock-Pot Casserole Crock Slow Cooker (or large oval slow cooker) with non-stick spray.Fill each flour tortilla with some of the egg mixture and some grated cheese in a row down the center, roll it over, and place in the casserole crock.Continue with each tortilla until you have a row of rolled burritos in the slow cooker.Sprinkle with the rest of the cheese and cook covered on HIGH until all the cheese is melted, about 30-45 minutes.If you don't have the Casserole Crock, you can warm these in a large oval slow cooker, maybe cutting one burrito in half to fit into the smaller ends.Burritos can also be warmed in a covered casserole dish in a 350F/180C oven until cheese melts. (I haven't done it that way so I can't say for sure how long it would take.)To make burritos to eat immediately:Warm tortillas in the microwave or wrap them in foil and warm in the oven.Down the center of each warmed tortilla put a row of egg mixture, topped with cheese, sour cream, and salsa, fold together and enjoy.To make burritos to freeze:Inside each tortilla put a line of egg mixture, top with cheese, wrap tortilla over.I like to cut them in half so they fit into my sandwich size freezer containers, but you could also wrap in foil or put in a Ziploc bag.For best results with frozen burritos, thaw overnight in refrigerator, because if you microwave them for too long the tortilla can get tough.Serve with more cheese, sour cream, and salsa as desired.