All Recipes
Spicy Tofu Lettuce Wrap Tacos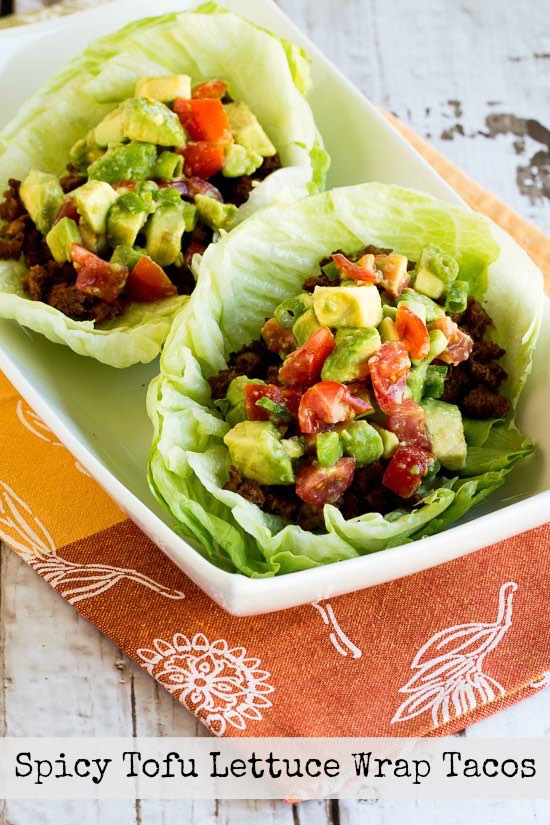 Meal

Main Dish

Cusine

Mexican
What do you need?
How to make?
Ingredients
14-16 oz. extra firm tofu, frozen and thawed
1 T creamy peanut butter
1/4 cup soy sauce
1 tsp. ground cumin
1 tsp. garlic powder
1 tsp. ground Ancho chile
2 tsp. Cholula Hot Sauce or other hot sauce of your choice
olive oil, for brushing baking sheet
2 heads iceberg lettuce
2 avocados
1 T + 1 T lime juice
1 cup diced tomatoes or cherry tomatoes1/4 cup thinly sliced green onion
1 T olive oil
1/2 tsp. ground cumin
Directions
Tofu must be frozen and thawed for this recipe, so plan ahead for that.Cut the thawed tofu crosswise into 2 thin pieces, arrange tofu pieces on several layers of paper towel, top with more towels, and put something heavy on the towel to press out the water.You might need to do this more than once if the tofu is pretty wet. (Here's more about How to Press Tofu if you haven't ever done it.)While tofu is pressing preheat oven to 350F/175C.Brush a large baking sheet with olive oil.Put the peanut butter into a medium-sized bowl and microwave for a few seconds to soften, then stir in the soy sauce, ground cumin, garlic powder, ground Ancho chile or chili powder, and Cholula or other hot sauce.When the tofu is mostly dry from being pressed, crumble into pieces with your fingers and mix with the sauce.Spread out the seasoned tofu crumbles on the baking sheet and bake 20 minutes, then turn tofu over and spread out again.Bake 20 minutes more, then turn tofu again.Bake 10-20 minutes more, or until all the liquid has evaporated and the tofu is slightly browned.While tofu bakes, remove core from lettuce and cut heads in half, then peel off several layers at a time to make large cups to fill with the tofu mixture.Chop the avocado into small chunks, put in a small bowl, and toss with 1 T lime juice.Add the diced tomato, sliced green onion, other 1 T lime juice, olive oil, and ground cumin and gently stir together to make the salsa.When tofu is dried out and slightly browned, fill each lettuce cup with a scoop of the tofu mixture, top with a scoop of salsa, and serve.