All Recipes
CrockPot Greek Chicken Soup with Garbanzos and Oregano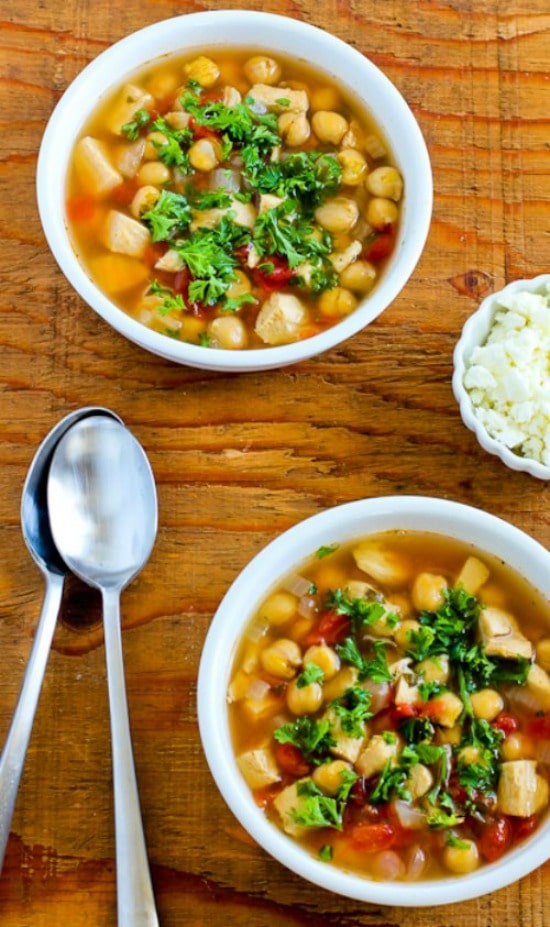 Meal

Soup

Cusine

Mediterranean
What do you need?
How to make?
Ingredients
3-4 cups diced, cooked chicken
1 can
1 onion, diced small
1 can petite diced tomatoes with juice
2 T finely chopped fresh oregano
1 tsp. minced garlic
1 tsp. Greek Seasoning
1 tsp. vegetable soup base
6-8 cups chicken stock, homemade or canned
1/2 cup chopped fresh parsley
crumbled Feta cheese for serving
Directions
Cut up enough chicken to make 3-4 cups of diced cooked chicken.Rinse garbanzo beans very well in colander, until no more foam appears.Chop the onion, and finely chop the oregano.Put all ingredients except parsley into crockpot, cover, and cook on low 8-10 hours.Just before you're ready to serve the soup, finely chop the fresh parsley and crumble the Feta.Add half the parsley to the soup and cook a few more minutes.Serve hot, with additional chopped parsley and crumbled Feta to add at the table.