All Recipes
Slow Cooker Asian Chicken Broccoli Bowls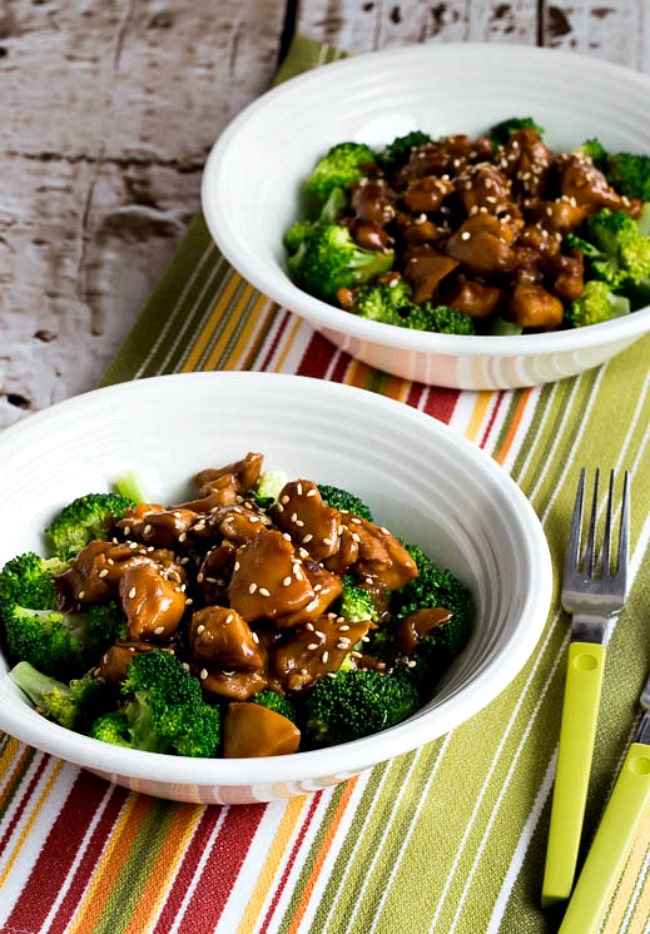 Meal

Main Dish

Cusine

Asian
What do you need?
How to make?
Ingredients
2 pounds boneless, skinless chicken breasts
6-8 cups cut up broccoli florets
sesame seeds, for garnish
Sriracha Sauce for serving, optional
3/4 cup sugar-free apricot preserves
3 T soy sauce
2 tsp. sesame oil
1 T Chili Garlic Sauce
1 tsp. garlic powder
1 tsp. ginger puree
3 T Tamarind Sauce (or use more apricot preserves if you don't want to buy Tamarind
2 T Golden Monkfruit Sweetener
Directions
Trim fat and any undesirable parts from the chicken breasts and cut into largish bite-sized pieces.Spray slow cooker with non-stick spray and put the chicken into the slow cooker.Whisk together the Sugar-Free Apricot Preserves (affiliate link) , soy sauce, sesame oil, Chile Garlic Sauce (affiliate link), garlic powder, ginger puree, Tamarind Sauce (affiliate link) or more apricot preserves, and Golden Monkfruit Sweetener (affiliate link) or sweeteners of your choice.Pour the sauce over the chicken and stir so all the chicken pieces are coated with sauce.Cook on HIGH for about 2 1/2 hours, or until the chicken is done. Don't be alarmed if the dish looks rather unappealing when it's first finished cooking, because there will be some bits of cooked protein floating in the sauce.Drain chicken in a colander, catching the sauce. (I strained the sauce again with a fine strainer.)Put the chicken back into the slow cooker and turn to low to keep it warm.Simmer the sauce over low heat until it's as reduced and thickened as you'd like, about 20 minutes.Pour thickened sauce back into the slow cooker and VERY GENTLY stir so the chicken is coated with the sauce. (If you stir too vigorously the chicken will shred apart.)When the sauce is nearly thickened, steam or microwave the broccoli until it's as crisp as you prefer. (We put the broccoli in an 8-cup glass measuring cup and microwaved on high for a little over a minute.)Divide the broccoli among bowls and top each with some of the chicken and sauce.Garnish with sesame seeds and serve Sriracha Sauce (affiliate link) on the side for people who want to add a little more heat.