All Recipes
Low-Carb Greek Cabbage Salad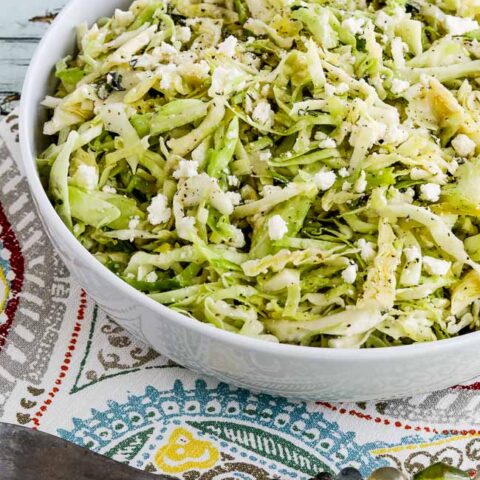 Meal

Salad

Cusine

Low-Carb
What do you need?
How to make?
Ingredients
6 T extra virgin olive oil
3 T red wine vinegar
1 T fresh-squeezed lemon juice
1 tsp. Greek Seasoning
1/2 tsp. dried thyme
1 medium head green cabbage, thinly sliced
1 cup sliced Greek Peperoncini, more or less to taste or omit completely if you prefer
1 cup crumbled Feta Cheese
1 T fresh thyme leaves, washed and chopped
fresh-ground black pepper to taste
Directions
Whisk together olive oil, red wine vinegar, lemon juice, Greek Seasoning, and dried thyme (if you don't have fresh thyme) to make the dressing. Measure out 1 cup of sliced Greek Peperoncini (use less if you're not a fan of spicy flavors). Measure out 1 cup of Feta cheese (more or less to taste). Wash fresh thyme in a salad spinner if needed, then pull leaves off the stems and coarsely chop to get about 1 tablespoon of chopped thyme leaves. Chop up 10 cups green cabbage. I used a mandoline slicer to get nice thin slices of cabbage, but you can certainly use a knife.  Mix desired amount of dressing into the cabbage. (You may not want all the dressing.) Stir in chopped fresh thyme (if using) and sliced peperoncini. (You can add a little chopped Greek Oregano too if you like that flavor.) Gently stir in the crumbled Feta and season salad with fresh-ground black pepper.