All Recipes
Low-Carb Greek Peperoncini Chicken Salad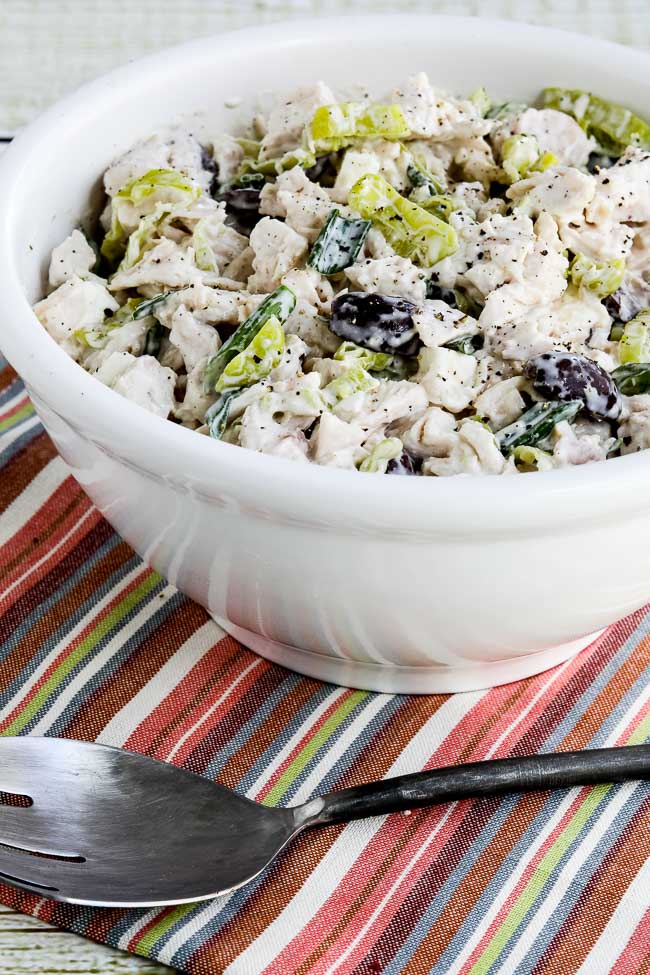 Meal

Salad

Cusine

Low-Carb
What do you need?
How to make?
Ingredients
4 cups chopped cooked chicken or leftover rotisserie chicken, cut in 1 inch cubes
1 cup sliced Greek Peperoncini
1/2 cup Kalamata olives, cut in half
1/2 cup diagonally sliced green onion
4 oz. Feta Cheese, cut into 1/2 inch cubes
fresh-ground black pepper to taste
1/3 cup mayo
)
1 tsp. Greek Seasoning
Directions
Cut the stems off the Greek Peperoncini and let them drain well in a colander. (I use kitchen shears to cut off the stems, which makes it easy and not messy!)If you don't have leftover cooked chicken, cook 4 chicken breasts for about 15 minutes in barely-simmering water with a little chicken flavor base, then let chicken cool and shred apart.If you have the pre-cooked chicken from Costco that I used or a rotisserie chicken, just cut into pieces about 1 inch square.Whisk together mayo, lemon juice, and a little Greek Seasoning to make the dressing, then taste to see if you want a little more Greek Seasoning.When the Peperoncini have drained well, use your finger to pull out the seeds inside each one, then cut into strips with the kitchen shears.Cut the Feta cheese into cubes, cut Kalamata olives in half, and slice green onions on the diagonal.Put chunks of chicken into a salad bowl and toss with desired amount of dressing (you might want a little less dressing if you prefer your salad on the drier side.)Then mix in the sliced Peperoncini, Kalamata olives, and sliced green onion.Add the Feta cheese and gently stir to combine.Season salad to taste with a little fresh-ground black pepper.This will keep in the fridge for several days and is delicious for a no-heat lunch to take to work!