All Recipes
Janet's Easy Mustard Chicken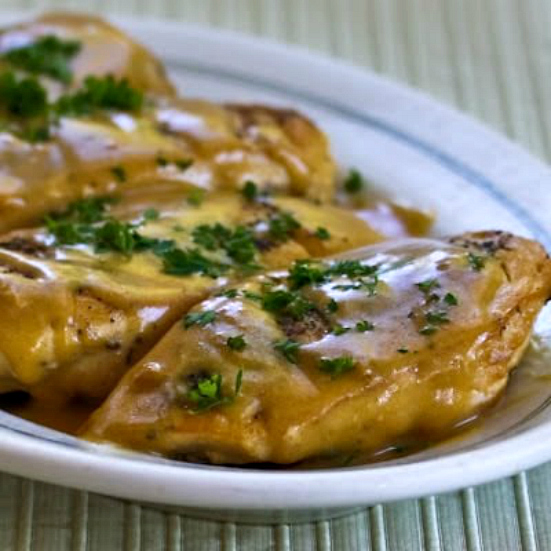 What do you need?
How to make?
Ingredients
8 boneless, skinless chicken breasts
1-2 T olive oil
poultry seasoning to season chicken before browning
1/2 cup mayo
1/2 cup sour cream
2 T Dijon mustard
1 tsp. dry mustard
1/2 tsp. ground ginger
1 1/2 cups chicken stock
chopped parsley for garnish
Directions
Trim all visible fat and tendons from chicken breasts, then make very small slits crosswise down the length of each breast. (This helps the sauce to penetrate. Be careful not to cut through too far.)Season chicken with Poultry Seasoning (affiliate link) on both sides.Heat olive oil in large frying pan big enough to hold the chicken in a single layer, add chicken and cook about 4 minutes on the first side, until chicken is lightly browned.Turn chicken over and cook 2-3 minutes on the second side, until chicken feels almost, but not quite firm to the touch. (It will continue to cook in the sauce, so don't overcook.)While chicken cooks, put all sauce ingredients in bowl or large measuring cup, and whisk to combine.When chicken is well browned, lower heat and pour sauce over.Simmer 20 minutes, being sure to keep heat at a very low simmer.After 20 minutes, remove chicken from pan and whisk the sauce a few times to be sure it's smooth.Serve hot, with a little sauce spooned over each piece of chicken, garnishing with fresh parsley if desired.