All Recipes
Grilled Pork Chops with Asian Black Bean-Garlic Marinade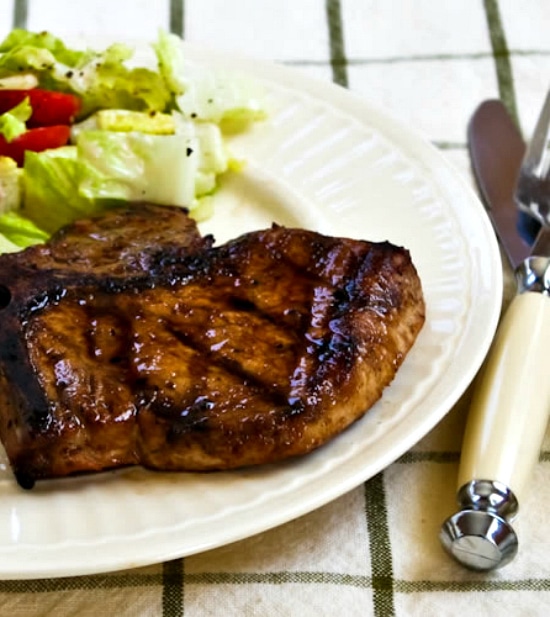 Meal

Main Dish

Cusine

American
What do you need?
How to make?
Ingredients
4 thick cut pork chops, preferably bone-in
olive oil, for oiling grill grates
2 T Black Bean Garlic Sauce
2 tsp. minced garlic
1 1/2 T soy sauce
2 tsp. sesame seed oil
2 T fresh lime juice
1 T ginger puree
3 T peanut oil
Directions
Trim visible fat from pork chops.Combine marinade ingredients.Put pork chops into a Ziploc bag (or a plastic container with a snap-tight lid) and pour marinade over.Let pork marinate in the refrigerator for 4-6 hours (or longer if you're away from home all day.)When you're ready to cook the pork chops, remove the meat from the refrigerator, drain pork chops in a colander placed in the sink, and let meat come to room temperature.Oil the grill grates with a paper towel dipped in olive oil, then preheat gas or charcoal grill to medium-high. (You can only hold your hand there for 2-3 seconds at that heat.)Lay pork chops on the grill at a diagonal to grill grates and cook 3-4 minutes or until grill marks appear, then rotate a quarter-turn and cook 3-4 minutes more to get second set of grill marks.Turn pork chops over and cook 6-8 minutes more, or until internal temperature is about 145F on an instant-read meat thermometer. (I use my Polder Meat Thermometer with Probe and Timer to get the temperature just right.) If you don't have a meat thermometer, the pork should feel firm but not hard to the touch. You can cut a piece open to check and it should be barely pink inside. (For years I cooked pork to 160F, but now I like it only cooked to medium; if you want it more well done, cook just slightly longer.)Serve hot.