All Recipes
Al's Hungarian Summer Squash with Sour Cream, Paprika, and Dill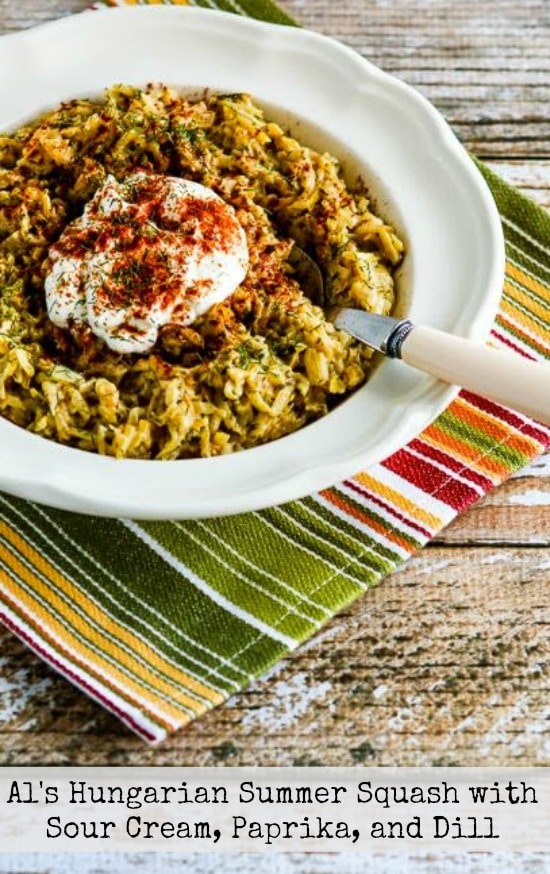 What do you need?
How to make?
Ingredients
2 zucchini, about 8-10 inches long
1 yellow summer squash, about 8-10 inches long
3/4 tsp. salt
2 T red wine vinegar
1 T finely chopped fresh dill
2 T finely chopped onion
2 T butter
2 tsp. paprika, plus more for garnish
1/3 cup sour cream
1 T flour
1-2 tablespoons dill pickle juice, as needed
dried dill weed, for garnish
additional sour cream, for garnish
Directions
Peel strips off the summer squash, leaving some strips of peel for color.Cut squash in half lengthwise and use a sharp spoon to scrape out the seeds.Then coarsely grate the zucchini, using a food processor or the large side of a box grater.Put the squash into a heavy pan with a tight fitting lid. (I used an enamel-coated cast iron dutch oven.)Sprinkle over the salt and add the vinegar, stir a couple of times, and let the zucchini sit 15 minutes to draw out some of the liquid.While it sits, finely chop the dill and onion.After 15 minutes push the squash to the sides of the pan to see that you have just a little liquid in the bottom. (Drain some off if there's a lot of liquid or add a little water or dill pickle juice if you don't see much liquid.)Turn on the heat under the pan to medium, add the butter (or olive oil). chopped onion, and chopped dill.Sprinkle on the Paprika and stir a few times to combine, then cover the pan and steam the squash 10-12 minutes, or until it's tender but not completely soft.When the squash is done, combine the flour and sour cream and whisk in 1-2 tablespoons of liquid from the pan (or dill pickle juice if there is not enough liquid).If you want a strong dill flavor, you can remove the liquid from the pan and use pickle juice in the sour cream.Stir the flour mixture into the cooked zucchini and cook 2-3 minutes more, or just until the flour is cooked and the mixture is slightly thickened.Taste and add more salt, paprika, or dill pickle juice as desired.Serve hot, garnished with paprika, dill weed, and a dollop of sour cream.