All Recipes
Salad with Tomatoes, Avocado, Feta, Shrimp, and Caper Vinaigrette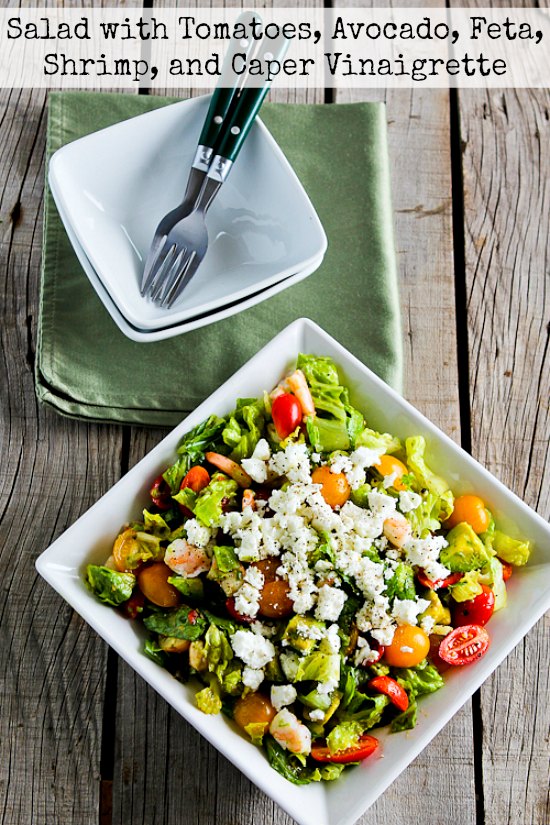 What do you need?
How to make?
Ingredients
4 oz. capers with juice
2 T minced roasted red pepper
2 T minced fresh parsley
1 1/2 tsp. Dijon mustard
1/3 cup red wine vinegar
1 cup extra-virgin olive oil
original recipe called for chopped boiled egg whites, which I couldn't convince myself was essential in this!
1 large handful shredded romaine lettuce
1 avocado, diced
3-4 small tomatoes, chopped
1/2 cup crumbled Feta
1/2 cup cooked salad shrimp
fresh-ground black pepper to taste
original recipe called for Maui onion, which sounded good but I didn't have any sweet onions.
Directions
Put capers with liquid, minced roasted red pepper, and minced parsley in food processor with steel blade and pulse 20-30 seconds, until ingredients are coarsely chopped, then place ingredients in small plastic bowl.Stir in Dijon and red wine vinegar, then whisk in olive oil a little at a time, until vinaigrette is emulsified.Make dressing a day ahead if desired. Bring to room temperature before using.Put chopped romaine lettuce into medium-sized salad bowl, add about 2 T dressing and toss until lettuce is well-coated with dressing. (It will seem like too much dressing until you add the other ingredients.)Add chopped avocado, tomatoes, and shrimp, along with 1-2 T more dressing and toss gently.Season to taste with fresh-ground black pepper.Divide salad into two bowls and top each salad with crumbled feta.