All Recipes
Pan-Fried and Roasted Pork Chops with Apricot-Dijon Sauce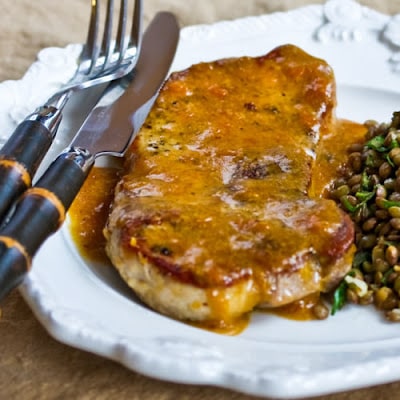 Meal

Main Dish

Cusine

American
What do you need?
How to make?
Ingredients
2 large pork loin sirloin or 4 small bone-in pork chops, fat well trimmed
salt and fresh ground black pepper for seasoning pork chops
1 T olive oil
1/2 cup chicken stock
1/2 cup no-sugar-added or sugar-free apricot preserves
2 T Dijon mustard
Directions
Preheat oven to 350F/180C and spray baking dish with olive oil or nonstick spray. Trim fat from pork chops (for the South Beach Diet there should not be more than 10% fat.) Season pork chops on both sides with salt and fresh ground black pepper.Heat olive oil in a heavy frying pan, then brown pork chops 3 minutes on each side. Put pork chops in baking dish and put in preheated oven to roast 8-10 minutes, or until internal temperature of the meat reaches 155-160F/68-71C when measured with an instant-read meat thermometer. (You'll be cooking the pork chops a bit more in the sauce, so take them out at the lower end of the temperature range if you can.)While pork chops cook, deglaze the pan with the chicken stock, scraping off any browned bits and cooking until the stock has reduced by about 1/2. Then whisk in the apricot jam and cook 2-3 minutes (the sauce doesn't need to be completely smooth.) Whisk in the Dijon mustard.Put the pork chops into the pan with the sauce, and turn them several times to coat with sauce, then cook about 2 minutes more. Serve pork chops hot, with the flavorful sauce spooned over.When I made this there were no leftovers, so I don't know how well it would reheat. If anyone does refrigerate leftovers and reheat later, I'd love to know how that worked.