All Recipes
Asian Green Salad with Soy-Sesame Dressing and Sesame Seeds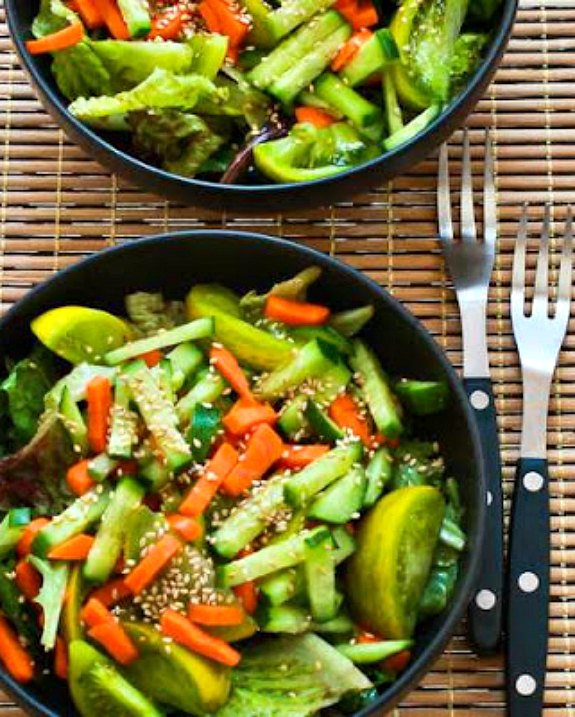 Meal

Breakfast

Cusine

Asian
What do you need?
How to make?
Ingredients
1/4 cup soy sauce
1/4 cup unseasoned rice vinegar
1/4 cup grapeseed oil
1 T sesame seed oil
1/4 cup sweetener of your choice
I heart of Romaine lettuce, torn apart, washed, and dried
4 cups baby greens
1 cup diced tomato
1/2 cup matchstick carrots
1/2 cup matchstick cucumber
1-2 tsp. toasted sesame seeds
Directions
Combine the soy sauce, rice vinegar, oil, sesame oil, and sweetener of your choice in a jar with a tight-fitting lid. Put lid on and shake jar until all the ingredients are dissolved.Tear apart the Romaine heart, wash, and spin dry or dry with paper towels.Dice tomato. Cut carrots and cucumber into matchstick strips until you have about 1/2 cup of each.Toast sesame seeds in a dry frying pan for 1-2 minutes, just until they start to smell toasted. (Or buy pre-toasted sesame seeds and you can use them right from the jar.)Put the washed Romaine and baby greens into a medium sized bowl and toss with enough dressing to coat all the greens (about 2-3 T.)Arrange the dressed greens on individual salad plates or in bowls. Top each salad with some tomato, carrots, and cucumber and sprinkle with sesame seeds.Serve immediately.